by VITALSIGN @allkpop on December 15, 2010 at 12:24 am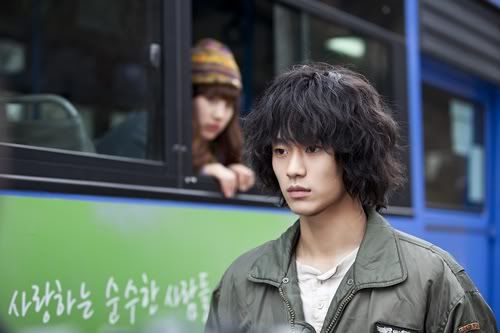 As the release date for KBS 2TV's "Dream High" slowly nears, teaser images and details have been unfurling one by one.
A recent still cut of actor Kim Soo Hyun has snagged attention across the board for his strong gaze, despite his shabby clothes and unruly hair. The presence that he exudes from just one still cut has viewers already touting him to be the 'dark horse' of the drama.
Kim Soo Hyun plays the role of 'Song Sang Dom,' a character with hidden prodigal talent who lives in the countryside with his mother.
Having shot to fame through dramas "Kimchi, Cheese, Smile," "Will It Snow This Christmas?," and "Giant," Kim Soo Hyun is said to be perfecting his dancing and singing skills for "Dream High."
The first episode will broadcast on January 3rd, 2010. Stay tuned to allkpop for future updates on this exciting drama!
Source: Newsen via Nate