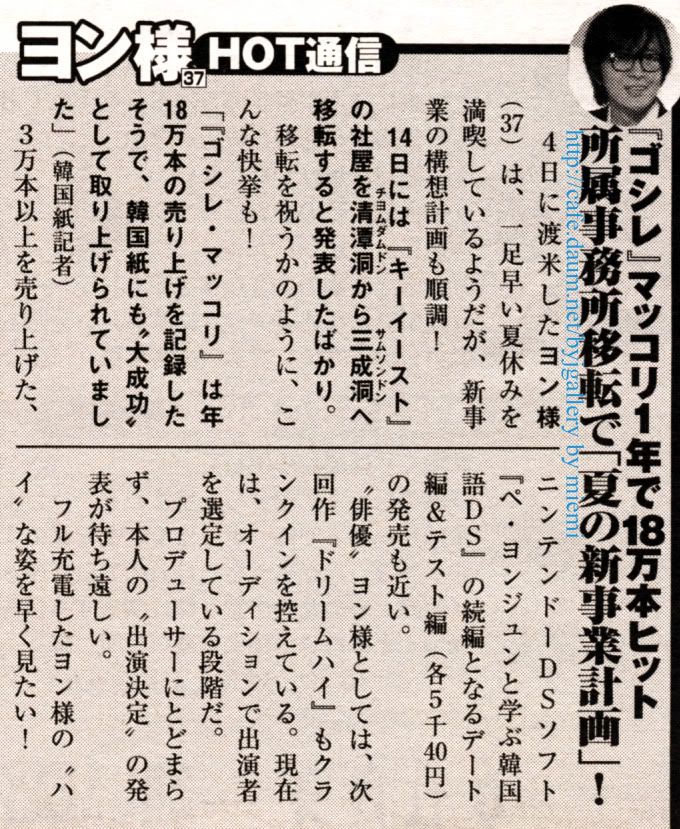 Translated into Korean: miemi
Translated into English: suehan

Major Hit. 180,000 Gosireh Makgeolli were sold in one year.
"Planning for new projects this Summer" with the relocation of the office!

It looks like Yonsama, who went to US on the 4th, is enjoying his early summer vacation completely, and the planning for the new projects moves smoothly. On the 14th, there was an announcement that the office of Keyeast would be moved from Cheongdam-dong to Samseong-dong.
.
There were such splendid achievements that it looked like they were celebrating the move.

It's said that 180,000 bottles of "Gosireh Makgeolli" were sold in one year and even Korean media covered it as "a big success". (Korean Reporter)

More than 30,000 copies of Nintendo DS software "Learn Korean on the Nintendo DS with Bae Yong Joon" were sold and its sequel, Date edition & Test edition (5,040 Yen each), is soon to be released.

Yonsama's next work "Dream High", as an "actor", is waiting for the crank-in.

Currently, it might be in the stage in which the cast would be selected through the audition. We are eagerly waiting for the announcement of Yonsama's "decision to appear", not only as a producer. We miss "the high spirited" Yonsama who was completely rejuvenated!