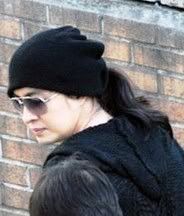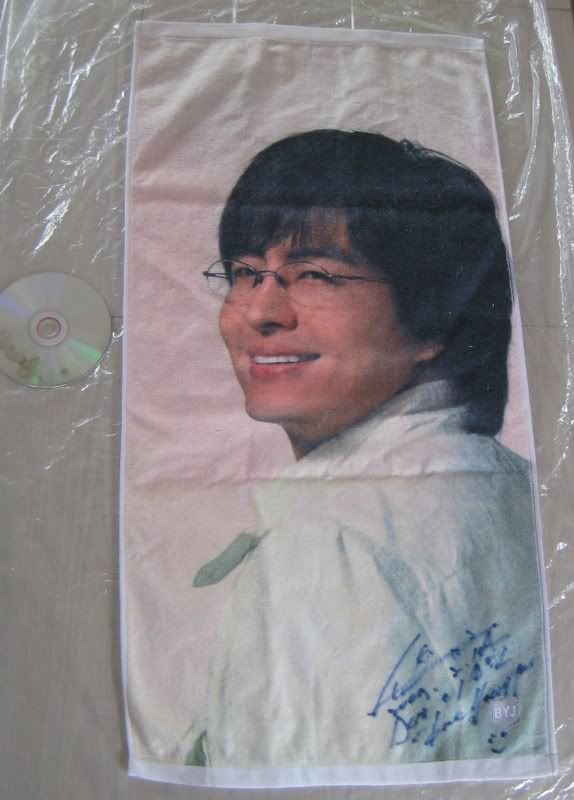 Flor's account on BYJ meet at the Sydney airport-KOB
Photos by flor
2009-02-13
11:30 pm - Received Joyce Lee's email, 'YJ went to Australia !' What ? Past tense ? About his past in Australia?
- Opened the email, I saw "yong joon left for autralia at 19:10 via korean air. it's was reported that he'll go there to do cf for The Face Shop".
- Oh, really ??? Really??? What should I do now? But to Sydney or Melbourne or …oh …
11:48 pm - Another email from Joyce, "Korean Air departed from Incheon Airport at 1910 is KE121, to Sydney, arriving at 07:10 tomorrow"
- Oh, SYDNEY ! My goodness! So sudden? He should have departed Korea already …
- Quickly searched for airline information, called my family in Hong Kong about this exciting news. One of my sisters said I would not be able to go close to YJ as there must be many fans. But I said not too many fans knew about this and I had confidence to go near him!
2009-02-14
Then I was very busy for preparing to meet him. I charged all my camera, video camera, mobile, MP4, set 2 alarm clocks ( still worry that I could not get up on time at 5:15 am ), selected photos for his autograph, finding suitable pens ….
2:30 am - Went to bed. Oh, just 3 hours sleeping time, must look ugly tomorrow!
- After counting sheeps for awhile, my head still could not stop thinking. Thinking what to talk to him, what clothing to put on, …. Worrying about whether there would be enough time to prepare for everything in the morning.... Oh, I had a headache!
3:30 am - Decided to get up to finish all works and pack everything first. Oh, it was the Valentine's Day! Luckily I got a spare rose ( plastic ) at home that could be presented to our Prince.
4:30 am – Tried to sleep again. 45 min left. Ha ha ha, of course my brain still did not stop working until the alarm beeped !
5:15 am – Got up. Oh, no bread left for breakfast! I must eat something, otherwise I would faint in the airport…. RUSHED, RUSHED, RUSHED…
7:05 am - Arrived at the airport, the plane should arrive at 7:13am ! Quickly found the gate. Oh, it had been changed to 7:20am, then I had more time to relax and prepare. I had carried 2 big bags, one is a gift from Sophie. Today I put on BYJ necklace and 'B' Ring too.
Later, the arrival time was changed to 7:30am. Then I found a seat and drank water and calmed down a bit. Not many people were there actually and many were western people. I could hardly find any fans. Suddenly I heard the Korean man sitting next to me said "Bae Yong Joon"! But I just could not see YJ going out and people all around were calm! Later I went near the gate, I saw his english teacher Brian coming out! Ha ha ha, I was so happy, YJ must appear soon.
I then started to think how lucky I was today! However, times passed by and I still could not locate the tall handsome man!
I saw a Korean man holding a paper " FACE Shop". I then chatted with him. He told me those people would not stay long at Sydney as they were going to Tasmania ! HELP !!! To Tasmania ( I thought I could see him taking CF at Sydney ). Then could I see him coming out ???
At first I was full of confidence that I could meet him and thought of how to present him the flower, shake hands with him, ask for autograph ??? Then I had a very long face quickly!
Later on I saw Miss Hong and other staffs coming out. I ran to Miss Hong and asked about YJ. She said he had left! ( THUNDERSTORM ) …. I asked more questions but she just said she didn't know and point to Manager Mr Hwang. So I asked him same question again. He also confirmed that YJ had left and didn't know where he had gone! I was so surprised and disappointed, but I knew I must do something. I took photos with Miss Hong and Mr Hwang. I told him that I wanted to meet YJ so much and I had been waiting for him for 4.5 years ! He saw my 'BYJ' necklace and then he ( another man besides him also told me something ) told me that YJ would come back at 11am at the Dosmestic terminal for flight to Tasmania. That man was so kind and told me the airline and gate number !!! Hi, thank you very much.
However, I was so afraid that I could not meet YJ, I then passed my own note, a note of greeting to YJ for Joyce and a paper of 12 sisters names to say 'Hi' to YJ. He was so nice and get them all. I decided to pass the flower too and he also took it !!! Thank you so much Mr Hwang!
It was only about 9am at that time. So I just went to MacDonald nearby to eat somethings. I wanted to cry actually. I recalled what had happened and wondered where and when had YJ gone! I complainted that why I was so unlucky all the time. YJ, when could my dream come true? Well, at least I knew I had been so close to him, within the same building, breathing the same air, he he he.
I went to the Domestic Terminal at 10:50am. I went in and there were even less people than in the morning. I reminded myself to be more smart and looked around every person. Wow, YJ's staffs all gathered at the counter to check in already! I quickly went there. But, where was he??? How could he not be there???
I asked Mr Brian, he just answered me that he didn't know, didn't know, could not tell… I turned to another man but he didn't know English much. I had a very bad feeling ! I waited until Mr Hwang was free, I then said 'Hello' to him. He remembered who I was. I asked him where YJ was, he didn't answer, but just led me to somewhere. Oh, he was so kind! I thought we needed to go to a room or somewhere. But after about 10 people's position, ( nobody at the queue actually ), he stopped and talked to a man who was bending his body on the trolley. That man looked up ( seemed to say something to me ) …
MY DREAM CAME TRUE today !!! So suddenly, so unexpectedly ! He had put on a black hat which was very similar to this one while the sunglasses were bigger and darker.
http://i105.photobucket.com/albums/m234/syj829/B2-1.jpg
He smiled gentlly and said something to me ( How are you ? ) and shook hands with me ( very warm ). I was still dreaming and wondered why I didn't discover him as I actually had passed by him so as to go towards the counter. He hid himself so well by the hat and sunglasses and by bending his body! I could only looked at his nose and mouth. Yes, this was really BYJ!!! Suddenly I didn't know what to do, just remembered the most important thing, i.e. to take a photo with him. But Mr Hwang said it was not allowed. Oh, I was so sad! YJ at once opened his big bag and took a photo out. It was the standard one! I was thinking finally I had one too! I was asked my name and I told him my name in Korean 이 소 연 .
http://i105.photobucket.com/albums/m234/syj829/V2.jpg
Then I took out the big towel which Sophie presented to me at the end of Jan. Few days ago I just washed it and made it straight. YJ seemed to find this towel quite funny and asked Mr Hwang a question. Please look at the right hand bottom ( luckily it is a BOF official product ).
http://i105.photobucket.com/albums/m234/syj829/V3.jpg
I then took out my private YJ's photo and asked him to write my English name on it this time. Ha ha ha, how satisfied I should be, getting 3 autographs and with nobody disturbing at all.
After that I didn't know what to say! I even forgot that I could say some simple Korean. Mr Hwang was very good and asked me how long I had been in Australia.
Followings were some conversation that I could remember :
F : Have you received my flower?
B : Yes.
F : Happy Valentine's Day!
B : ( smiled ) Happy Valentine's Day.
F : I often write at KOB, do you remember?
B : Yes. ( he seemed to have answered twice so as to affirm this. )
F : Do you read my postings at KOB.
B : Yes, I have read them. ( I remembered that he answered in English )
He said in Korean that I didn't understand ( just catch the word MEET ). Then he asked Mr Hwang 3 years? I realized that he must be confirming with Mr Hwang how long I had been his fan. I told him it had been 4.5 years. He again shook him with me. Could not remember how many times, he often shook hand with me. I asked him when would be his next drama but he didn't give an answer. I asked him whether he had cut his hair, he was so good to pull his hat up a bit at the back. Oh, the hair was much shorter than before, just up to the neck. He still tied his hair up. ( although it was a very short tail ). He he he, i then pointed to my private photo that I liked his hair similar to this.
I hated myself so much that I didn't know and could not remember what to say ( I have written some questions in a note book and practised before. )
He finally said something to me. I found that this sentence was very familiar but I didn't know the meaning. I didn't even know it was Korean or English! I must be too tired and too excited. Finally I realized that he wished me Healthy 건강하세요! I laughed and I tried to say something to him. He then looked at me with concentration. I said 행복하세요 ( wish him happy ). Luckily he seemed to understand. He again shook hands with me.
I was thinking could we depart just like this??? I was brave and smart to send him a flying KISS! He sent me a flying KISS at once! Ha ha ha, I can die now!
We talked for about 6 minutes, but with few staffs surrounding us. His voice was soft and gentle. I knew that he didn't want others people to notice him, so I was gentle and spoke softly too. I felt that he was quite different from my imagination. Might be he was tired, shy or embarrassed ?!
I then walked away from him and turned my head to look around for awhile. When I looked for him again, oh, they had all gone! Where were they? Where? I looked further away, he was there, turning his head and waited to wave to me to say Good-bye! Oh, my Yong Joon! I waved to him to say Good-bye!
Suddenly I remembered one thing, I chased after him to shake hands again as I wanted to look at the size of his hand. He then showed me his hand! Finally he said, "TAKE CARE !" very gently and sweetly ! He was so co-operative ( except not taking a photo with me, wu wu wu ).
I could still see them when they went into the custom. It was funny as he could not pass the checking and had to go back. I saw him taking out some more things and even his belt! ( there was some metallic chain as decoration ). Hi girls, have you seen him put on his belt? I saw that, ha ha ha !!!
I was happy as there seemed to be some problems for other staffs, so they stood there for a long time. YJ then sat on a chair in a very relax way ( like a teenager, straightened his legs ), listened to his MP3 and chew gum. Have you seen such YJ before? Oh, it was about 11:30am.
I am so wealthy now ! I nearly have a very SAD Valentine's Day, but now, it is an unforgettable one !
Oh, I forgot to tell him one very important thing, leave it for next time.
By the way, it is not an easy trip for him. After flying for 10 hours from Seoul to Sydney, he then went to somewhere for about 3 hours. Then he got on a flight which would stop over at Melbourne and then fly to Tasmania!
Yong Joon, do have a good rest and me too !
Tasmania
http://www.discovertasmania.com/