source: fuyuka's blog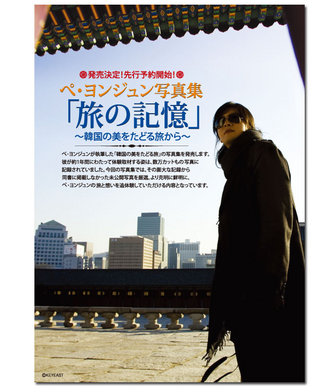 source: Nikkan Sports / Quilt by tomato99
2009/12/3
Bae Yong Joon's new photo book, "Memories of the Trip -from Discovering the Beauty of Korea" will be on sale from February 2010.
Yon-sama had experienced and reported traditional culture for about one year to write his Japan and Korea's best selling book "Discovering the Beauty of Korea."
His features were recorded in more than several thousands of photos, but his book included mostly photos taken by Yon-sama himself.
This new photo book will carefully select unreleased photos and will show BYJ devoting himself to his work in details.
His managing company says "this content will let you re-experience his trip and his feelings."
Reservation starts from 4 December at shopping sites, Nikkan-sport.com and bofi, and at Kinokuniya Book Store.
Price: jpy 4,200
++++++++++++++++++++++++++++++++++++++++++++++
information for family outside Japan!!
Kinokuniya Book Storehave online shopping site and they do ship the books globally.
check out their HP and find a web shop convenient for you.
Kinokuniya Book Stores
BookWeb Global Service(Online Shopping)
http://www.kinokuniya.com/
list of overseas stores
http://www.kinokuniya.co.jp/english/contents/network04.html
Good luck everyone!!
source: byjfan by kaorin