source: http://www.asiae.co.kr/news/view.htm?sec=ent5&idxno=2009111110203117716
Bae Yong-joon meets with Korea's First Lady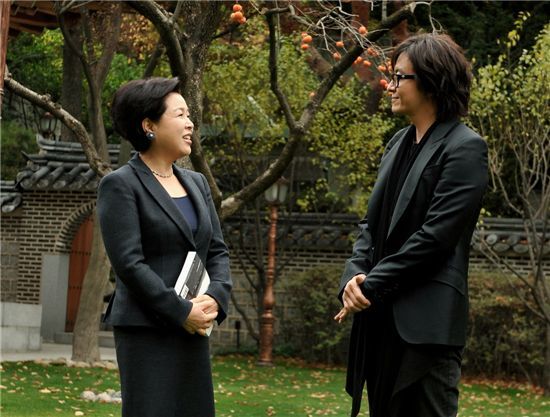 Korea's First Lady Kim Yoon-ok and Hallyu star Bae Yong-joon [Cheongwadae]
Hallyu star Bae Yong-joon visited the presidential office of Cheong Wa Dae on Tuesday to meet with Korea's First Lady Kim Yoon-ok, according to a presidential spokesman. The First Lady had personally invited the actor to hear his thoughts on the globalization of Korean food and how to actively promote tourism via the "Visit Korea 2010" campaign. The First Lady currently serves on the Globalization of Korean Food Committee and the Visit Korea 2010 committee.
The meeting took a little over an hour, during which they talked about Korean culture including Korean food, drinks and traditional houses, spokesman Lee Dong-gwan explained. Bae is quoted to have said, "Right now, there's a well-being trend and everybody is looking for healthy food for their body. I think that's where the advantage of Korean food lies." The First Lady shared her thoughts too. "There are so many Korean dishes so I think it may be much better to choose several important ones. Developing a menu for Korean food is the foremost task for the globalization of Korean food," she was quoted as saying. The two public figures also talked about how they experience ordinary things in life despite their lack of privacy.
Bae currently runs a Korean restaurant in Tokyo and recently released photo essay book "Discovering the Beauty of Korea" which contains photographs of various cultural artisans that the actor met during his travels, as well as introductions to Korean culture and travel locations which Bae compiled over a one-year period. The 37-year-old actor has been actively promoting Korean culture in Asia since shooting to stardom in the region after starring in 2002 hit TV series "Winter Sonata" alongside actress Choi Ji-woo.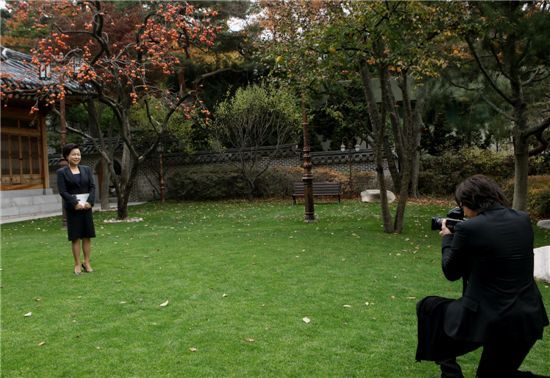 The actor photographs the First Lady [Cheongwadae]

Editor : Lynn Kim lynn2878@asiae.co.kr <ⓒ10Asia All rights reserved>