Reposted from soompi, translated by mariko.
This is actually written by Mr. Don Konishi, a Japanese fashion adviser.
He was one of the guests in the DATV red carpet ceremony
held last Oct 1, 2009.
I translated the part where BYJ was mentioned.
original source: http://fanet.jp/regular/don_konishi/302.html
At last Yonsama appeared towards the end (of the program).
He came to the VIP room where we are gathered after walking on the red carpet.
He is truly Yonsama.
Although it is not an overstatement that he is supported by the Japanese market, he came prepared by inquiring beforehand about the guests.
Although we talked through the aid of an interpreter, he approached Kano sisters in faltering Japanese, "you looked wonderful and sexy".
To Mr. Junichi Ishida (Mariko: a Japanese talent and actor), he said "congratulations" (Mariko: Mr Ishida just announced his engagement to a professional golfer).
Then he told me "ah, Your sense in fashion is good".
However, what really surprised me to have actually met and see him was that he has
a small face, there is feeling of pureness, and there is an intellectual aura too.
Although there were other men (entertainers) in the party like Mr. Junichi Ishida,
they could not have stand a chance. Iyah...He really is a prince.
http://www.donkonishi.com/dkf/history/index.html
source:
http://fanet.jp/regular/don_konishi/302.html / byjfan by yume3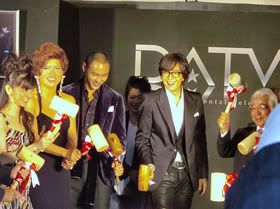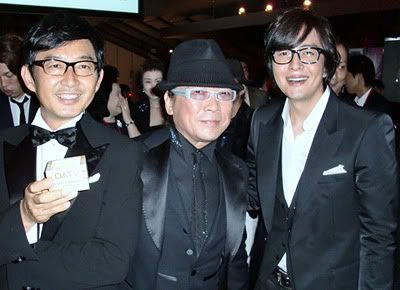 From left to right Mr. Junichi Ishida, Mr. Don Konishi and BYJ