Bae Yong-joon's photo essay contents revealed
Lynn Kim 기자lynn2878@asiae.co.kr
기사입력2009.09.10 17:28최종수정2009.09.10 17:28 00
Actor and photo essay author Bae Yong-joon [BOF Korea]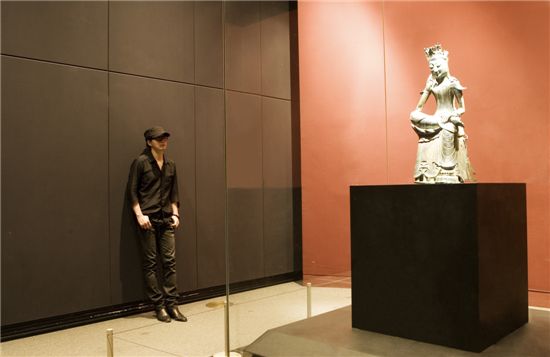 The contents of a photo essay authored by Korean Wave star Bae Yong-joon have been revealed through the actor's agency in a press release.
The actor had announced two weeks ago that he will release a photo essay, tentatively titled "Journey in Search of Beauty of Korea - Bae Yong-joon", containing some 200 photos the actor took during his trips around Korea.
The content of book includes 11 cultural artisans that Bae met, including master potter Cheon Han-bong and Hanbok designer Lee Hyo-jae, along with introductions to Korean traditional food and cultural content, such as the kimchi, hanbok, King Sejong the Great and the National Museum of Korea.
The book also introduces culturally-rich travel locations that might help foreign travellers to see the true beauty of the country, explained the agency.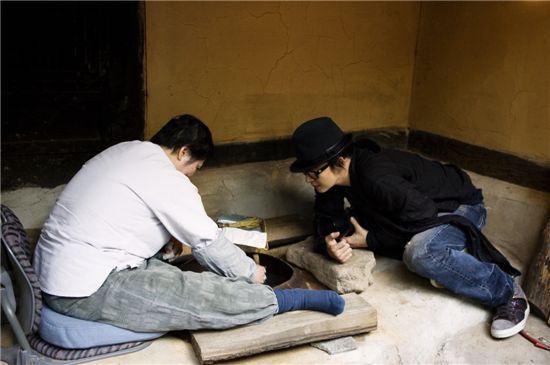 Korean Wave star Bae Yong-joon [BOF Korea]
The actor himself wrote in the preface that the book is "a record of a journey by a beginner who studies Korean culture" and that he "hopes [the book] will be a small present to people who love and want to know Korea."
In Japan, over 650,000 dollars worth of the book has already been sold ahead of its release on September 30. On the same day, a promotional event will be held at the Tokyo Dome with 50,000 fans expected to attend.
The Korean version of the photo essay will be out September 23.
Reporter : Lynn Kim lynn2878@asiae.co.kr
Editor : Jessica Kim jesskim@asiae.co.kr
<ⓒ10Asia All rights reserved>
=================================================
BYJ faces a tough question from the Maestro of Ceramic Art
Article from : Asia Economy News 2009.9.10
http://www.asiae.co.kr/news/view.htm?idxno=2009091008450648421
Reporter: Moon Yong Sung
Translated into English; gaulsan
"Choose the best one among these 48 tea bowls"
In his photo-essay, BYJ introduced an episode that he has experienced while he was learning ceramic art from maestro Cheon Han Bong.
Maestro Cheon Han Bong is a ceramic artist who is designated as a Human Cultural Property, and it is inevitable that his work became one of the major theme of BYJ's photo-essay. The maestro that BYJ met in Moongyung, Kyungsang province was a short-statured, diligent, and generous man.
For several days, Maestro Cheon showed BYJ the process of ceramic art - finding clay, processing the clay, spinning, trimming, firing, and so on.
After showing the entire process, the maestro gave YJ his last mission to choose the best ceramic piece.
Even though the maestro was a gentle person, he was the master to BYJ, and it was not easy to find the correct answer. [This article doesn't tell us whether YJ chose the right one or not. - gaulsan]
After visiting maestro Cheon, BYJ started to make ceramic pieces at home. YJ wrote frankly, "maestro breaks the finished pieces when maestro doesn't like the outcome, but I cannot do like that. I cannot break the peaces that have gone through all the elaborate processes. They are like my offspring."
He showed his respect as "so much time and effort are needed to become a master, and it is so difficult for even a master to create the 'Real One' ".
Maestro Cheon Han Bong was born in 1933, and he is a professor of ceramic art at Moonkyung University, and is designated as a Human Cultural Property.
He started to learn ceramic art when he was 14 years old. He is famous both in Korea and abroad, and had more than 150 times of exhibitions in Japan.