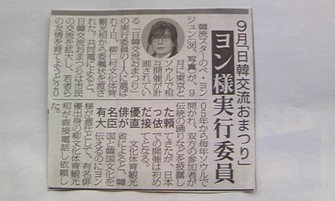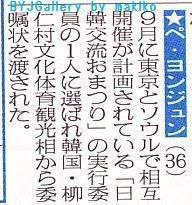 original in japanese: nikkan sports 2009/05/07
translated into chinese: snowkin / loveyongjoon
translated into english: happiebb / bb's blog
Pic source: byjgallery by makiko / fuyuka's blog
Yonsama Becomes the Executive Committee Member
for Japan-Korea Exchange Festival
Hallyu star Bae Yong Joon (36) has been selected to be one of the executive committee members on the Japan-Korea Exchange Festival, which will be held in both Tokyo and Seoul in September. The Korean Culture and Sports Minister, Mr Ryu In Chon, has handed the appointment documents to Bae Yong Joon on the 7th.
The Japan-Korea Exchange Fesitval is to promote the exchange between the people as well as to develop and nurture friendship amongst the youths of both countries. Since it was started in 2005, the fest had been held in Seoul every year, and the participants from both countries would perform traditional dances. this is the first time it will be held in Japan.
According to the Culture and Sports Ministry, Yonsama is the most suitable candidate to promote Korea and Korean culture. Minister Ryu, who was a famous actor himself previously, had made the call to Mr Bae Yong Joon directly regarding the appointment.