[2009.5.29 요미우리 Yomiuri]
English Translated by tomato99 :BYJ Gallery(thanks!)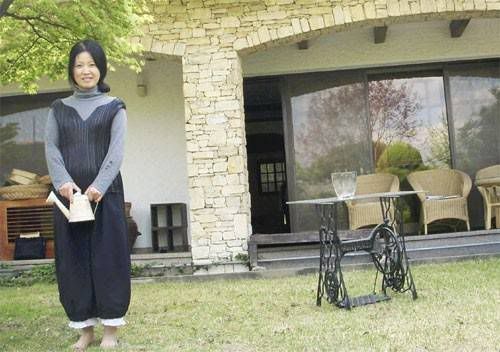 Lee Hyojae in barefoot at her garden.
Table on right is originally a sewing machine.
She places things where it looks most beautiful.
Decorate simply
20 minutes drive from downtown Seoul. Along two lane loose slope mountain road, the house surrounded by high stone walls appear.
Korean traditional clothing "hanbok" designer, Ms.Lee Hyojae(李効斎)(51)told us the concept of her proud home, "I decorated simply to be environment-friendly."
In May last year, she rented this 4story building at "one of the highest rent range in Seoul."
Walls are all white in the rooms, marble and dark brown wooden floor are polished to mirror-shine.
Building is 25 years old but does not look old. 1st floor is a shop which sells cushions and other goods, 2nd floor is hanbok shop, there is endless line of female visitors.
You can sense lived-in feel from 3rd floor. In kitchen, she equips German knives and measuring spoons as she "loves their accuracy."
Still there are so many visitors to this floor as Ms. Lee teaches cooking and embroidery to housewives twice a week in her "lecture room" located next to the kitchen.
Room opposite to kitchen is filled with comics and novels. She started buying and collecting from 30 years ago and smiles "my collections has more than 1000 books."
There is a beautiful garden(approx. 400square meters) outside. A maple tree in center surrounded by mat of lawn. On a sunny day, she brings out a table outside and enjoys her meal at garden.
In one corner, there is a field where she grows green pepper, corn, and hot pepper. There are various sized traditional crocks with hot pepper paste "gochujang" or soybean paste "doenjang" which are essential for Korean cuisine.
"Process of making home-made food is part of designing.
(Working in field) may be a labor for someone who does not like it, but it is a day to day activity for me."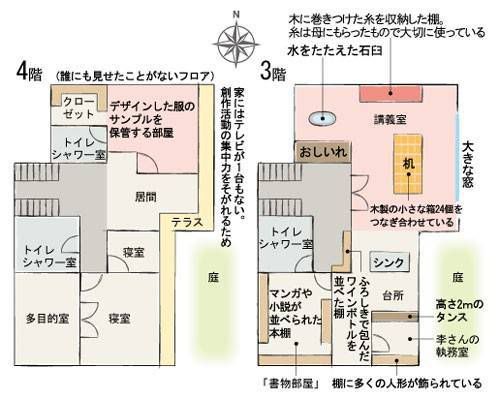 There was no major renovation considering negative effect to earth atmosphere by waste. Instead, she elaborated interior decorating.
Felt uneasy with light switch on wall, she covered it with white cloth box. It matched with white wall and felt comfortable.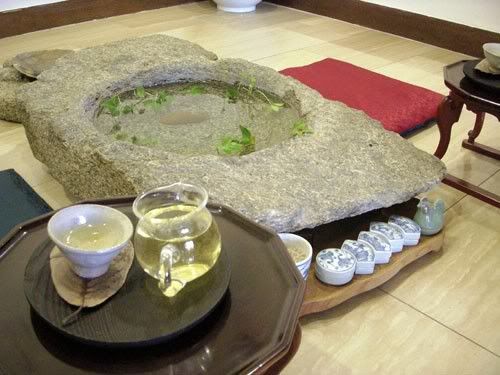 There is a stone mill in one corner of the lecture room. Waterweed in water shows graciousness and adds humidity.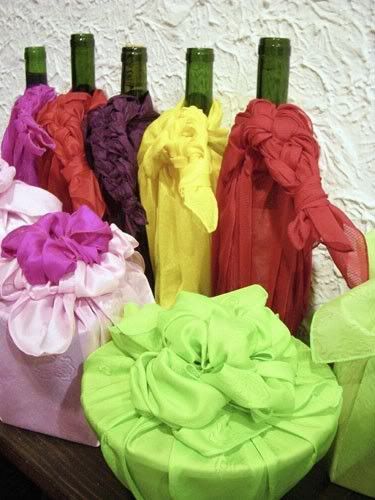 Shelf on hallway displays boxes and wine bottles wrapped up in red, yellow and other colorful bojagis. To save paper bags and plastic bags for shopping, I like bojagis.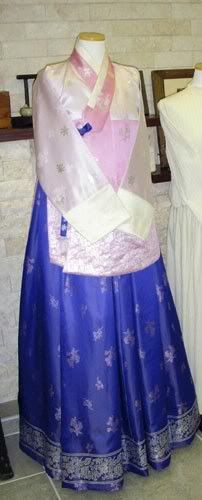 "Basics for design is simplicity and usefulness. It's the same both to earth's environment and daily clothing, food and housing."
Her philosophy shows in every part of her home.
There is no visitors in 4th floor. It is a private floor for Ms. Lee and her 5 female staffs whom she affectionately calls "children."
"It is a place we have not opened to anyone," she did not disclose it to us in this coverage…..
(story and photos by Yasuhiro Maeda, Seoul)
▼exterior is western style. 외관은 서구 스타일
fences and outside walls are surrounded by ivy, building speaks for its years.
total floor space is approx. 400square meters.
▼along the mountain road, residential area where relatively grand houses stands
▼there is a temple on other side of the road, you can see visitors.
but, there is not much car traffic, surroundings are isolated from bustle of downtown.
dignified stately dwelling.
hanbok displayed on 2nd floor. 2층에 전시된 한복
bojagi covering wine bottles.보자기로 싼 와인병
knot resembles traditional hairstyle of Korean single women.
stone mill filled with water shows calm atmosphere.물이 담긴 돌 맷돌은 고요한 분위기로 보여준다.
여성 종업원 5명을 포함 6인 가계부
가계부 (6인 생활비,이효재씨와 5명의 종업원)household accounts(living of 6people, Lee and 5 female staffs):
한달수입 monthly income: 18,000,000 won원
식비 food expense: 3,700,000 won원
수도,전기,전화비water,electricity, phone expense: 1,600,000 won원
교통비 travelling expense: 700,000 won원
차량 유지비 car maintenance fee: 2,500,000 won원
저축, 보험 savings insurance: 4,500,000 won원
기타 others: 5,000,000 won원