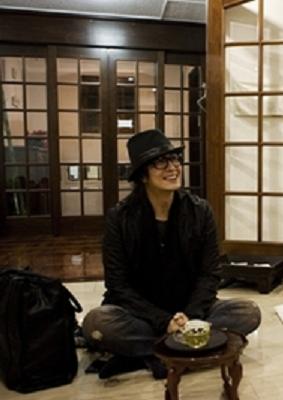 [photo & report] 배용준 from Blog "せんせいしょん Dairy"
source: byjgallery by LL
from せんせいしょん Dairy
http://wave.ap.teacup.com/sensation/
2009/3/7「용님~ヨン様~!!」
original in japanese: sensation52's blog 2009.03.07
translated into chinese: snowkin / loveyongjoon
translated into english: happiebb / bb's blog
* sensation is a guitar-band from iwate, japan
Yonsama~!!
I believe there're probably a lot of people who already know this,
... that!
... Yonsama!
... had secretly come to morioka!
It's... fantastic~!
Before, I did write that I was overseas for work in December.
The truth is that I had seen Yonsama during that time!
Yonsama had wanted to become the student of the world-class lacquer painter Mr Jun Yong Bok, so he attended our meeting. Of course, I had presented Yonsama with a CD from Sensation.
But something happened during the meeting that made me unexpectedly happy, that's when all the staff watched the concert DVD together. Yonsama offered his praises very seriously, "That's great!"
As what Yonsama had said, he really came to Morioka. He had stayed for a week, and his first(?) lacquer learning experience ended smoothly.
On the last evening, (he) had a dinner party at the famous tonkatsu(?) restaurant in Morioka (大雅), and then he boarded the shinkansen for tokyo!
Heard that he actually was not discovered at the Morioka train station and in the cabin.
It's good that he's safe.
Picture's taken in Korea, Yonsama, Jun Hyeon Min and me