Saturday, January 03, 2009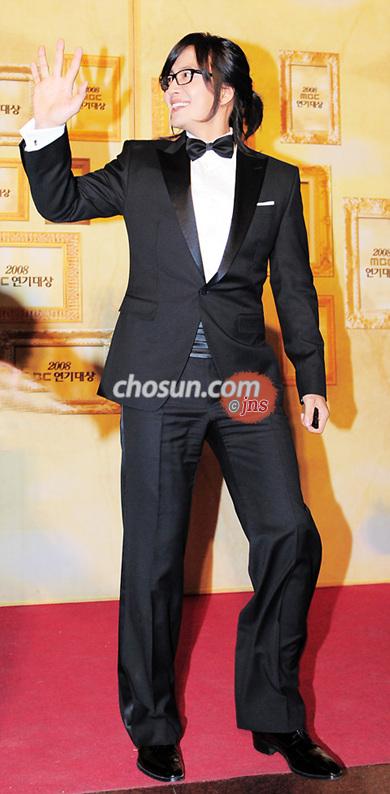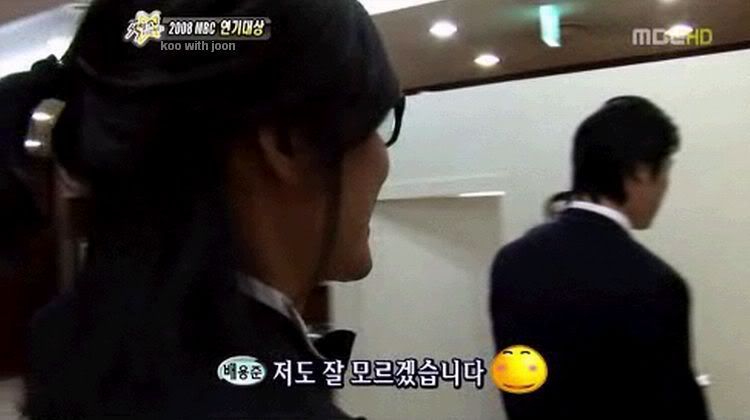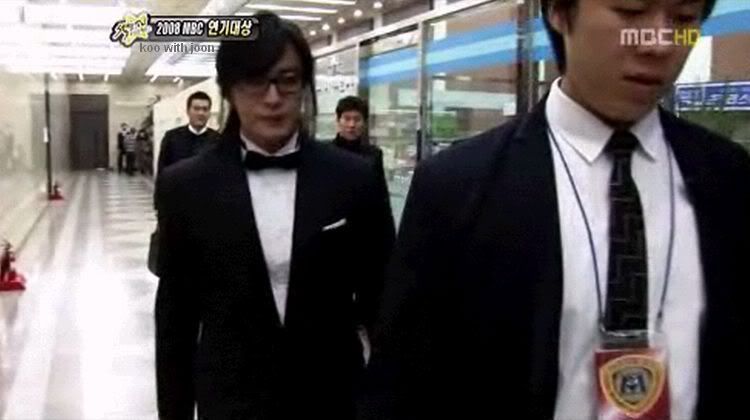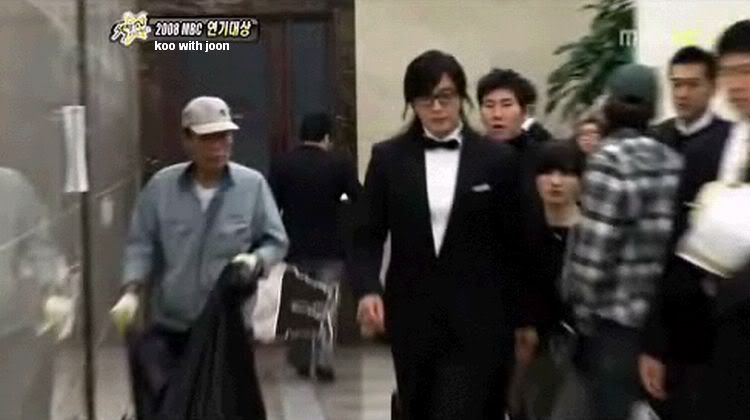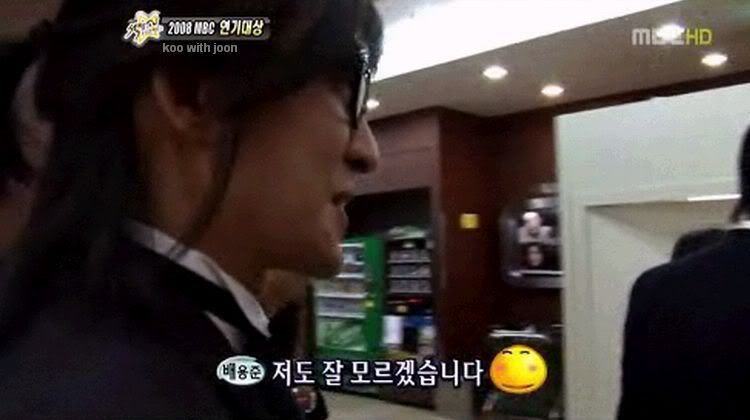 source: koo with joon / byjfamily by jessica / byjgallery by style
[Caption: The 2007 the Grand Award winner, Bae Yong Joon ssi!]
Female Reporter: Oh!, here is Yonsama, Bae Yong Joon ssi.
Male Reporter: Who would you say will get the Grand Award today?
[Caption: Q: Who will be the Grand Award winner today?]
BYJ: I really don't know.
* suehan: It's the first time for me to post the clip in Quilt. If it doesn't work,
here is the url of the clip.
source: Quilt by suehan
Thursday, January 01, 2009
source: Quilt by suehan

[BOF Notice Trans]New Year's Message from BYJ.

[New Year's message from Bae Yong Joon ssi to Family.]

Annyeonghaseyo, Family. This is Bae Yong Joon.
The first day of 2009 came, and I would like to remember this time with you, Family

First of all, I would like to show my gratitude for you all.
I received everyone of more than 2000 letters you sent to me last summer.

It was an opportunity for me to deliberate regarding your love and interest about Korea.
I'm happily making a book with the thought of traveling together with you while planning a book and considering all the opinions. It's not easy because it was the first time for me, but it's a good way to learn from it.

You might be curious about what kind of book will be published, but it looks like it is in between being a travel guide book, which introduces Korean culture, and a book of humanism.

By discovering hidden cultures of Korea and secret locations, I would like to make a book that anyone can look at enjoyably. I am finding the strength through all the new pIaces, people and experiences. Now that the New Year is beginning, looking back on the memories of the past year is making me feel happier.

Even at this moment, when I am thinking of all the new events and what new times I can spend with the members of the family, my heart is beating from excitement. I think there are definitely lots of times that help create the heart that is the fence of what a family is. I am sure that even in 2009, I will be lucky to have that same, warm family that I can think about at the times that I am sad or struggling; and I am always thankful for that.

I think last year was generally a difficult and strenuous time for the world. In 2009, I am hoping that the year will bring happiness and allow everyone, not just the Family, to accomplish all that we wish for. And I truly wish that everyone's families are also always happy and healthy together.

I hope you have lots of luck in the New Year.

Sincerely, Bae Yong Joon

[VOD]배용준-2009.01.01Kinga Radical!-용준님New Year Card
source: byjgallery by makishi


[photo&scan] 20090101 yomiuri  skyperfectv 광고 배용준님
source: byjgallery by pola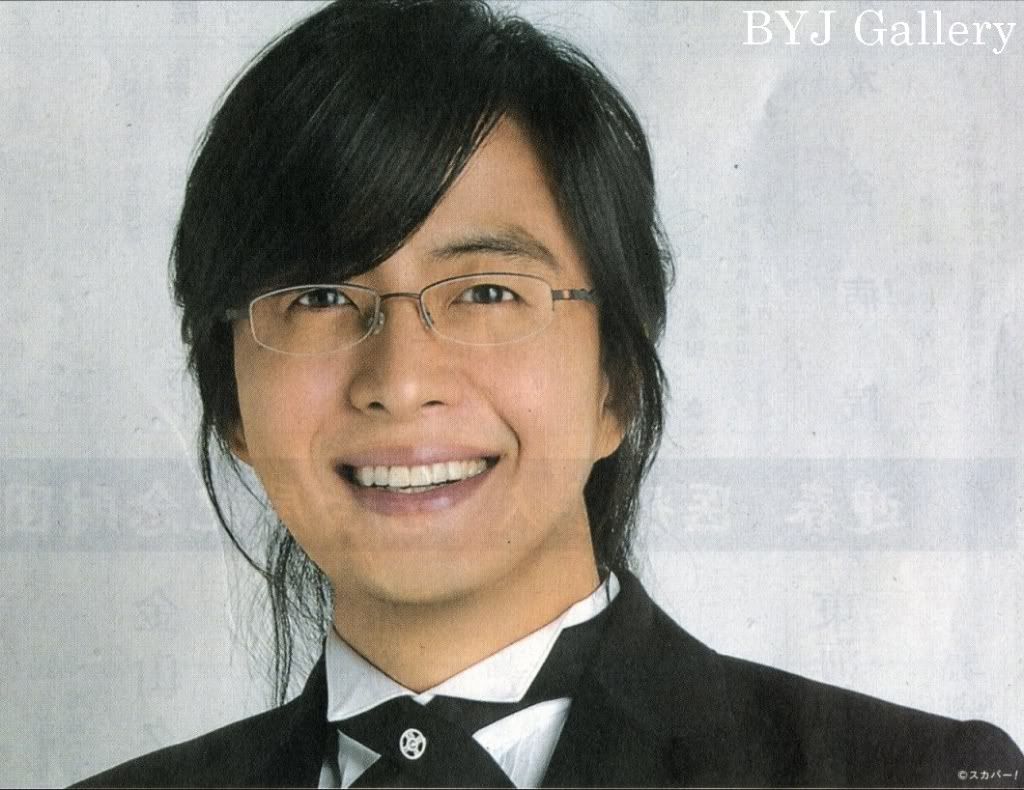 Wednesday, December 31, 2008
Source youtube.com~ by Nabizero






source: byjfamily.net


WINNERS
Daesang/Grand Prize: Kim Myung-min (Beethoven Virus), Song Seung-heon (East of Eden)
Top Excellence (Actor): Jo Jae-hyun (New Heart), Jung Jun-ho (The Last Scandal of My Life)
Top Excellence (Actress): Lee Mi-sook (East of Eden),
Bae Jong-ok (Woman of Matchless Beauty Park Jung-geum)
Excellence (Actor): Lee Dong-gun (When Night Comes), Jo Min-ki (East of Eden)
Excellence (Actress): Han Ji-hye (East of Eden),
Moon Sori
(Golden Age of My Life)
New Actor: Park Hae-jin (East of Eden), Jang Geun-seok (Beethoven Virus)
New Actress: Lee So-yeon (Golden Age of My Life), Lee Yeon-hee (East of Eden)
Popular Actor: Song Seung-heon (East of Eden)
Popular Actress: Lee Yeon-hee (East of Eden)
Golden Actor Award, Miniseries Category: Ji Sung, Kim Min-jung (New Heart)
Golden Acting Award, Serial Drama: Park Geun-hyung (Woman of Matchless Beauty Park Jung-geum and East of Eden),
Hong Eun-hee
(Don't Hesitate)
Golden Acting Award, Supporting Actor: Park Chul-min (New Heart and Beethoven Virus),
Shin Eun-jung (East of Eden)
Golden Acting Award, Mid-level actor: Yoo Dong-geun (East of Eden);
Song Ok-sook
(Beethoven Virus)
Best Couple: Song Seung-heon & Lee Yeon-hee (East of Eden)
Drama of the Year: Beethoven Virus
Special Child Actor Award: Park Gun-tae, Shin Dong-woo, Nam Ji-hyun (East of Eden)
Lifetime Achievement: Choi Jin-shil (The Last Scandal of My Life)
Special PD Award: Lee Soon-jae (Beethoven Virus); Yeon Jung-hoon (East of Eden)
Family Award: I Love You, Don't Cry
Writer of the Year Award: Na Yeon-sook (East of Eden),
Hong Jin-ah, Hong Ja-ram (Beethoven Virus),
Kim Eun-hee (MBC Special)
Radio Top Excellence: Lee Moon-sae (This Is Lee Moon-sae In the Morning)
Radio Excellence: Kang-in (Good Friend); Kang Seok-woo (Women's Era)
Radio Rookie Award: Kim Shin-young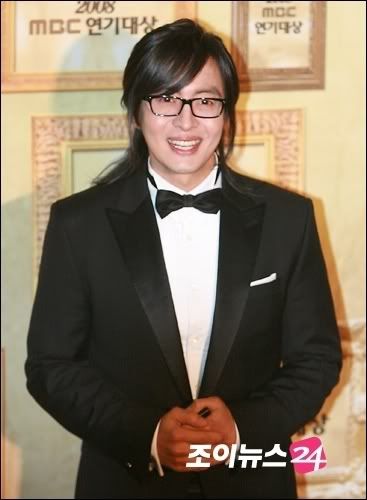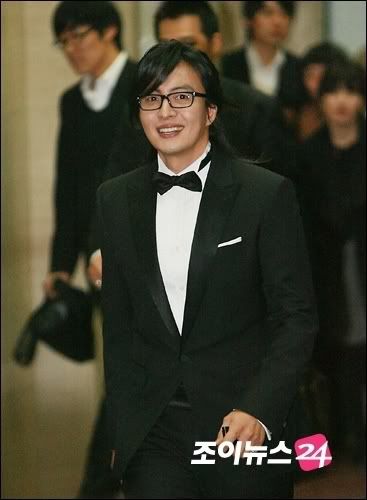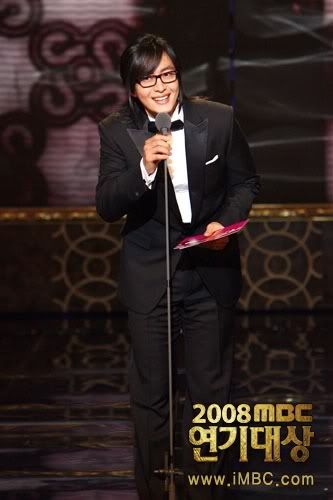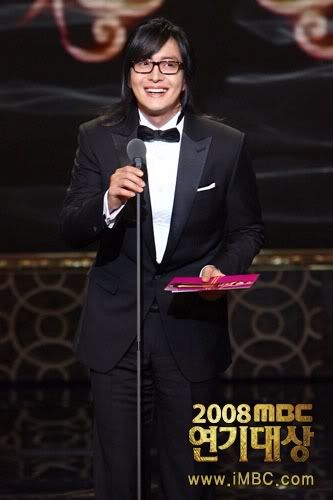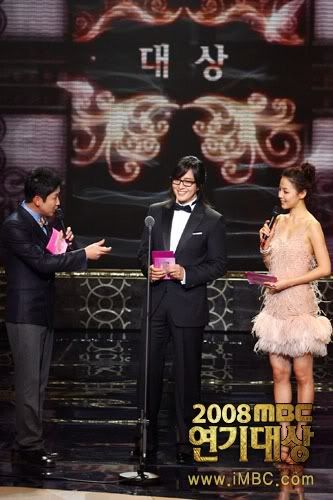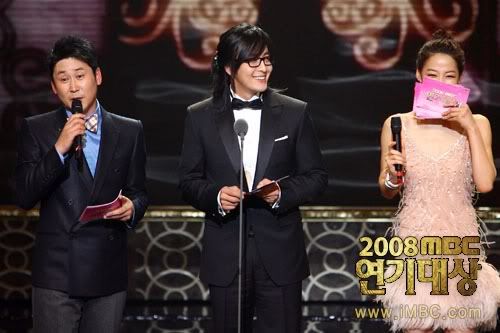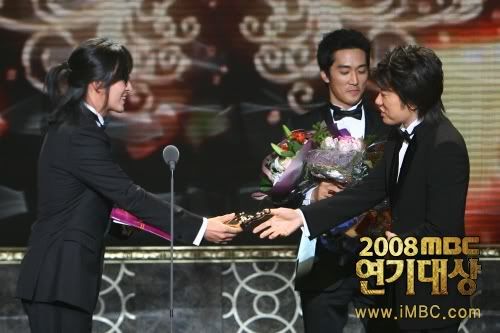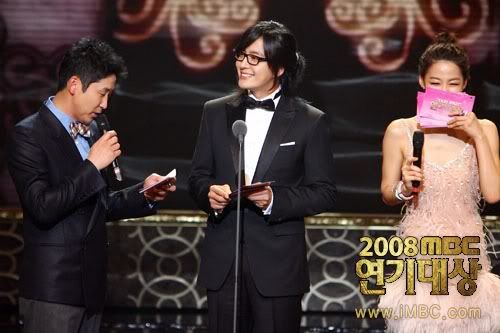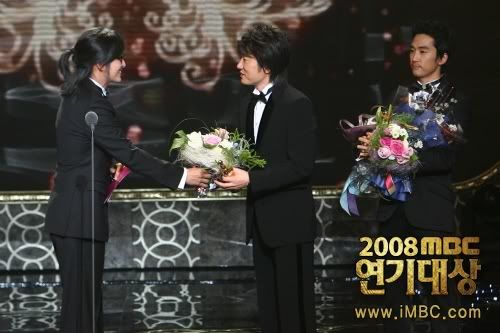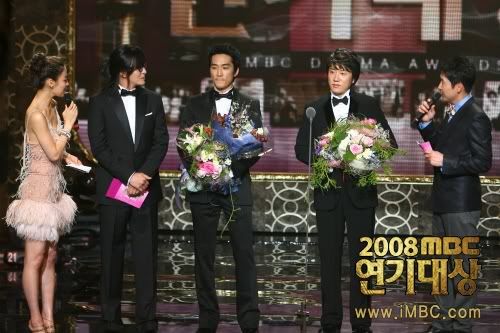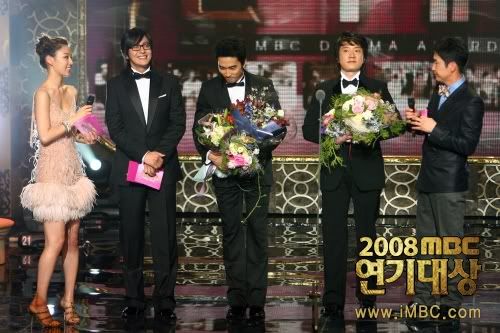 source: IMBC / innolife / byjgallery / byjfamily