Saturday, October 11, 2008
[배용준님 "행렬을 할 수 있는 라면이 먹고 싶다" 로 놀라움 작전]josei-7 2008.10.9
source: byjgallery by miemi
^^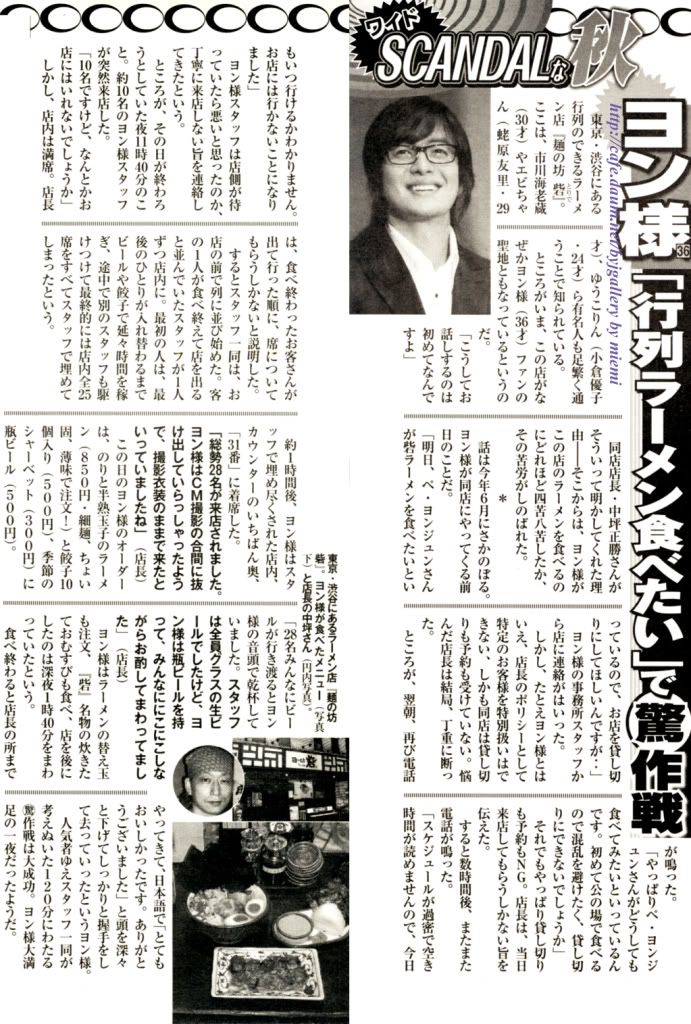 original in japanese: Josei Seven 10-21-08
scanned & posted by: miemi / byjgallery
translated into english: sweet sister / bb's blog
Yonsama, Amazing Strategy to Eat Ramen
"People Stand in Line For"
Men no Bou Toride is a ramen restaurant in Shibuya,
Tokyo where people stand in line to get in.
This restaurant is known for such celebrities as Ichikawa Ebizo,
Ebi-Chan (Ebihara Yuri and Oguri Yuko, who frequent it.
But this restaurant has somehow become known as Yonsama's Holy land to his fans.
"This is the first time that I am speaking about this."
Manager Nakatsubo Masakatsu gave his reason for saying this.
From his story, you can tell how much distress he endured
when Yonsama ate ramen at this restaurant.
His story goes back to June of this year.
It was the day before Yonsama visited the restaurant.
"Tomorrow, BYJ is saying that he wants to eat Toride ramen
so we want to reserve the entire restaurant…"
Yonsama's office staff called the restaurant.
But even though they said it was Yonsama,
it was the manager's policy not to give special treatment to any customer
nor accept reservations or allow private functions.
The manager agonized and ultimately politely declined their request.
But the following morning, the telephone again rang.
"BYJ is still saying that he wants to eat at Toride.
Since it will be the first time that he will be going out to a public pl*ace to dine,
and he would like to avoid any chaos,
would it be possible to reserve the restaurant for a private function?"
Despite this request,
the manager gave his answer as no for reservations and private functions.
The manager told them that the only way he could eat at the restaurant
would be for him to come to the restaurant on that day.
Then after a few hours, the phone again rang.
"Yonsama's schedule is booked
and we don't know when we will have an opening
so we don't know what time we will be able to be there today.
We have decided that we will not be there today."
Whether Yonsama's staff thought that it was inconsiderate
to keep the restaurant waiting for him,
but they courteously called to inform the restaurant that they would not be coming.
But as the day was nearing an end, this incident happened at 11:40 pm.
About 10 people from Yonsama's staff suddenly arrived at the restaurant.
"There are 10 of us, is there any way we can be seated?"
But the restaurant was fully occupied.
The manager explained that the only way they could all be seated
was to wait until the customers had finished eating and left the restaurant,
and then the staff members could take their pl*aces as the customers left.
Then the staff members all began to form a line in front of the restaurant.
When a customer finished eating and left the restaurant,
one staff member waiting in line would each enter the restaurant.
The first people entering the restaurant
would pass the time drinking beer and eating gyoza
until the last staff member was seated,
and midway through, other staff members showed up so that,
as a result, the restaurant's entire 25 seats were occupied by staff members.
After about an hour, amidst the restaurant packed with staff members,
Yonsama took his seat at the end of the counter, Seat 31.
"There were a total of 28 customers.
It seemed that Yonsama came during a break in the CM filming,
and he said that he was still wearing the outfit from the filming."
(restaurant manager)
Yonsama's order was ramen with seaweed and soft-boiled egg
(850 yen, thin noodles, al dente, light broth)
plus 10-piece gyoza (500 yen), sherbet (300 yen)
and canned beer (500 yen).
"All 28 people were passing around the beer
and Yonsama would take the lead in offering toasts.
The staff was all drinking draft beer in glasses
but Yonsama was holding a canned beer,
and went around pouring from it
as if serving sake (shaku) while beaming at everyone."
(restaurant manager)
Yonsama ordered an extra helping of ramen
and also ate Toride's specialty of rice balls,
and when he left the restaurant it was 1:40 am.
When Yonsama finished eating,
he came over to the restaurant manager
and said in Japanese, "It was really tasty. Thank you very much."
and he bowed deeply, gave a firm handshake and left the restaurant.
The staff who came up with the amazing 120 minute idea
all because of a popular figure was a great success.
It seems that Yonsama enjoyed a very satisfying evening.
************************************
The following information reposted from bb's blog (thanks)
BOFi is selling the Joon Bear calendar. To commemorate the Korean new year, Joon Bear is wearing a beautiful hanbok!! Holding the 2009 calendar, he looks super cute!
Height when seated: 22cm
His hands and calendar have magnets attached, so his hands can hold up the calendar. His hands and legs can move freely, and can do all sorts of actions.
http://www.bofi.jp/goods/
Selling price: JPY 7,140 (inclusive of tax) /
& of course inclusive of the calendar!!
Sales office: BOF international
Reservations start from: 10th Oct 2008, 12nn
Stocks ready: 2nd half of December 2008
JOB Diaries (Purple / Red)
http://www.yongjoon.jp/goods.asp
Friday, October 10, 2008
http://www.culturetainment.co.kr/
Reposted from Quilt, translated by suehan
==========================================
Keyeast, signs MOU with online travel agency.
[Asia Economy] 2008-10-10 11:39
On the 10th, Keyeast said that they would sign a strategic alliance MOU with online travel agency, Culturetainment, for an online travel business. They will also launch an online travel business.
Culturetainment has an on-line travel agency site, 'log in tour', and they'll provide the contents related to travel and search engine techniques for the newest flying and lodging by signing the MOU.
Keyeast will do the domestic online travel information business with them by using actors (and actress) for differentiated contents.
Actor, Bae Yong Joon planned to publish the traveling book for Korea and a photo book, which would be the introduction of 'beauty of Korea'. Keyeast is looking for a new income source and it will be one of their road maps. This MOU will work with those businesses.
An officer of Keyeast said, "The culture of Korea was introduced worldwide and the travelers who visited Korea increased. But the vacation spots were limited and we don't have some features that would make them more satisfying and build extra income."
He further said, "We would like to make the travelers, who visit for mere curiosity, to better understand the beauty of Korea and come back again by the different features and added business models. Of course, our goal is to make the profit for the company and the domestic travel businesses grow."
Reporter, Park Hyung Soo, parkhs@asiaeconomy.co.kr