Friday, July 18, 2008
[SCAN]웃는 얼굴의 여행자-배용준님 초 레어 공항shot-shukanjosei 7.15
source: byjgallery by miemi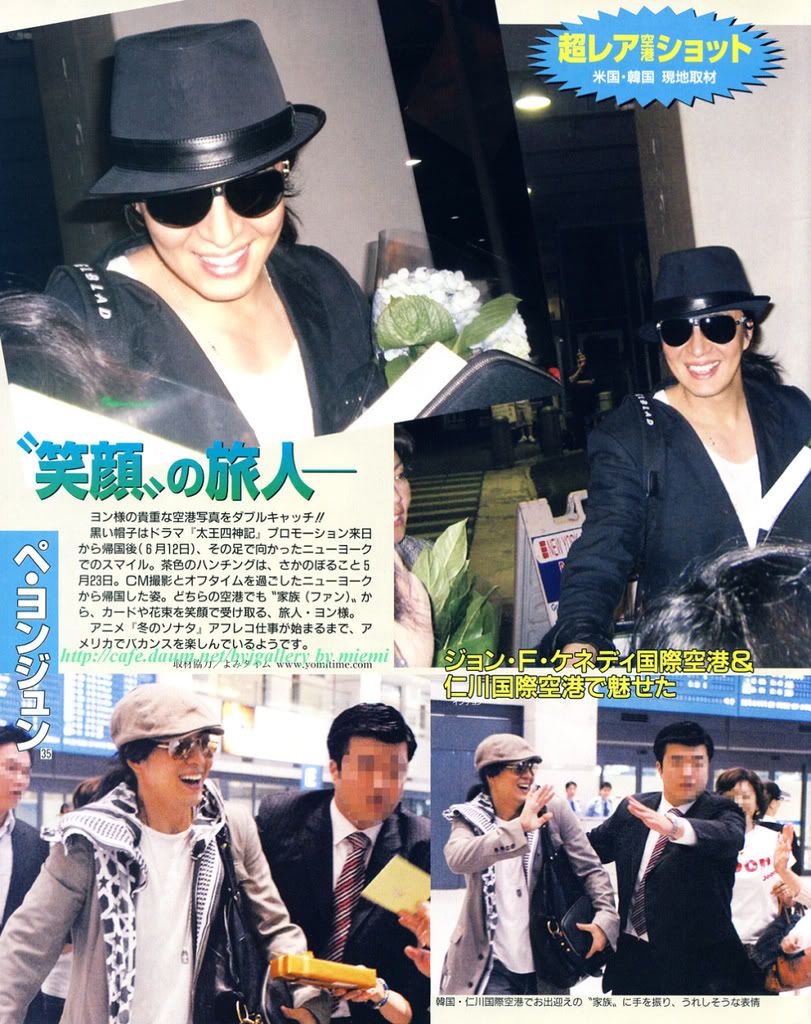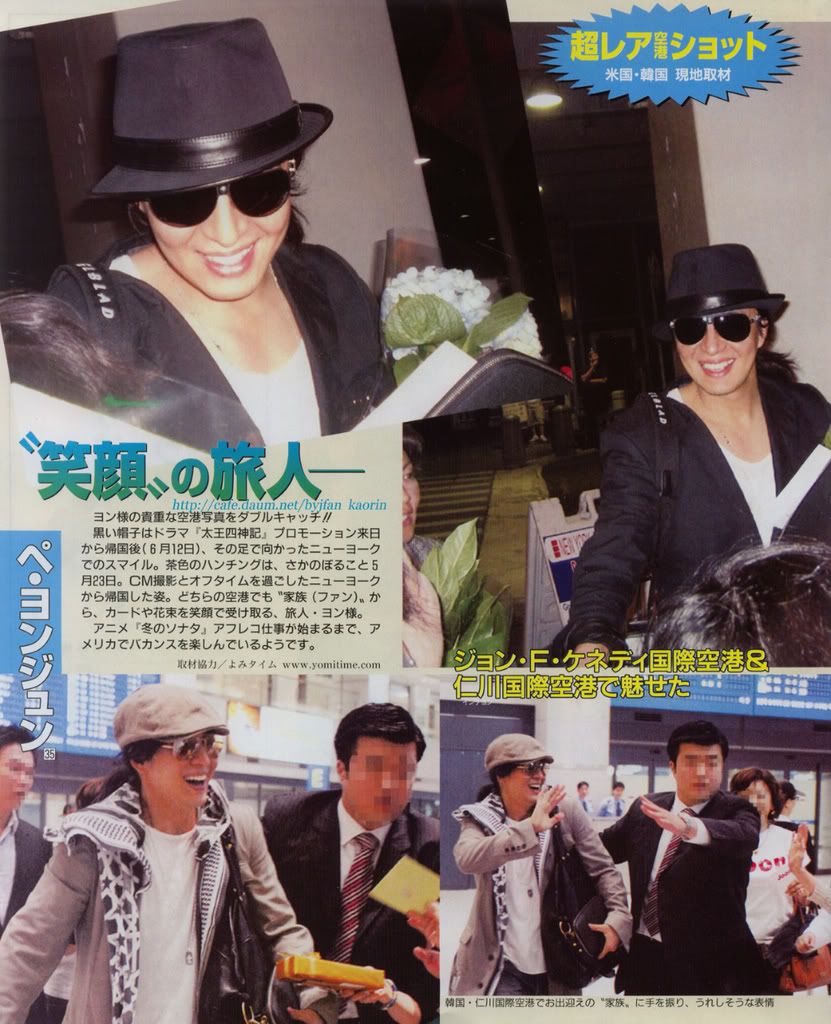 女性自身
2008年7月29日・8月5日合併号
2008年7月15日発売
[일본 주간지] 칸나비! (욘사마 HOT 통신)~~일본 방문시의 사용품을 체크!
source: byjfan by kaorin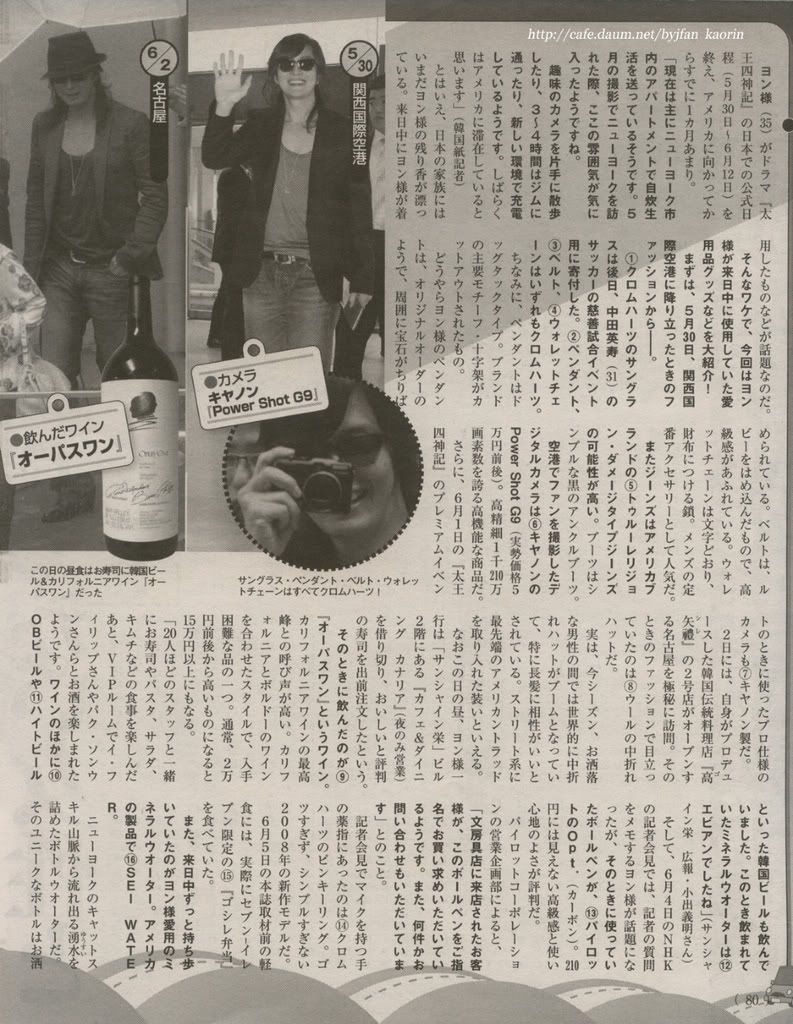 [SCAN]韓navi!/배용준님-"애용 브랜드"20 전부공개-일본 방문시의 사유물을 전체크・joseijishin7.15
source: byjgallery by miemi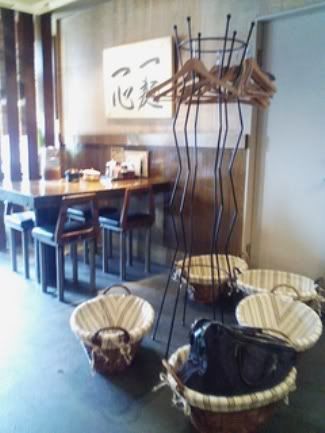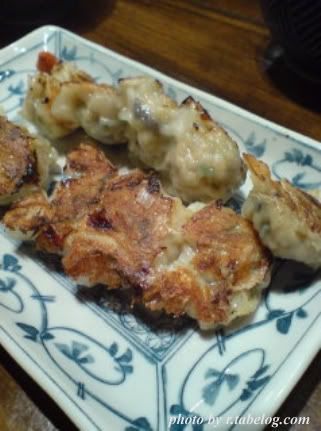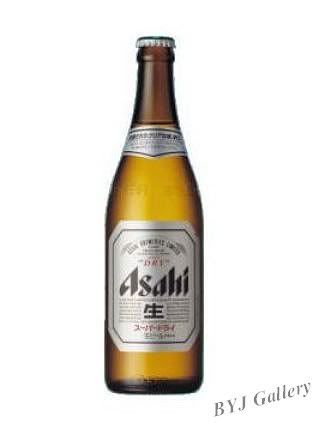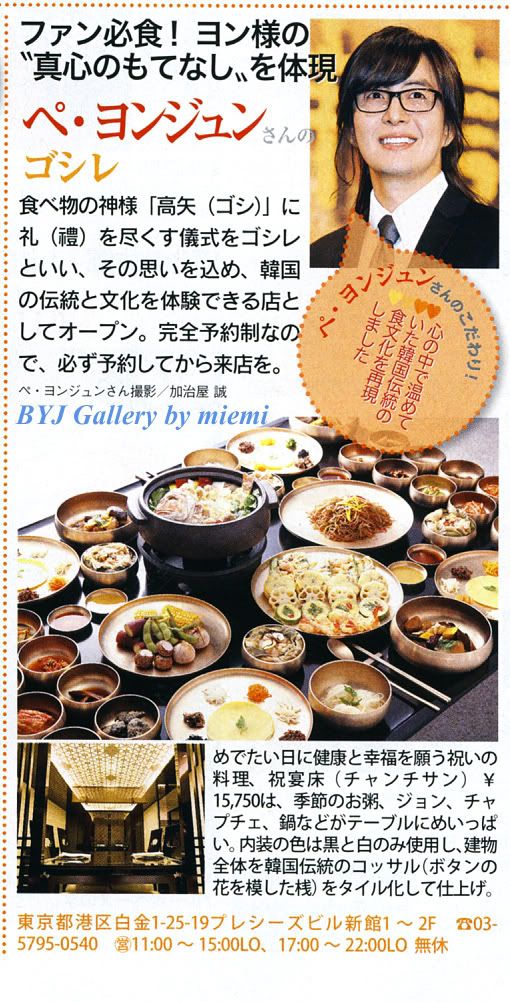 original in japanese: Josei Jishin 7-29-08 p. 80-81
scanned & posted by: rosiebaba / joonsfamily
translated into english: a sweet sister / bb's blog
[Trans] Yonsama, the Brands He Uses
It has been about a month since Yonsama concluded his official schedule
for TWSSG in Japan (5/30-6/12)
and he took off for the U.S.
"He is currently living in an apartment in New York City,
cooking his own meals.
When he visited New York in May for filming,
he seemed to be really taken by the atmosphere of the city.
He takes walks carrying his camera with him,
working out at the gym for 3-4 hours
and recharging his batteries in a new environment.
I think that he will be staying in the U.S. for an extended time."
(Korean newspaper reporter)
For Japanese family, the lingering fragrances of Yonsama still float in the air.
The articles that Yonsama wore during his Japan visit
are topics of conversation.
Because of that, we are introducing those articles that Yonsama used
during his Japan visit!
First on May 30,
we will start with his fashion when he landed at Kansai Airport.
1) The Chrome Hearts sunglasses were donated
to the Nakata Hidetoshi soccer event.
The (2) pendant (3) belt (4) wallet chain are all from the Chrome Hearts brand.
The pendant is a dog tag.
The brand is known for its cut out cross designs.
It appears that Yonsama's pendant is a special order
with gemstones set around the edges.
The belt has inlaid rubies giving it a sense of luxuriousness.
The wallet chain is just as it describes a chain that attaches to the wallet.
It is a popular and essential men's accessory.
His jeans are very likely the American brand (5) True Religion distressed jeans.
The boots are simple black ankle boots.
The digital camera (6) he used to film fans at the airport
is a Canon Power Shot G9 (market price about 50,000 yen).
It is a top-of-the line product boasting of 12.1 megapixels.
Then on June 1 at the TWSSG Premium Event,
the camera he used is a professional-type (7)
which was also a Canon model.
On June 2, he secretly visited Gosireh #2 which will open in Nagoya.
The noticeable fashion from that time was the (8) stingy brim wool hat.
This season, among fashionable men worldwide,
the stingy brim wool hat is popular and especially goes well with long hair.
The look can be called a mix of street fashion and American traditional style.
At noon on this day, Yonsama and his group,
reserved the Canaria Cafe (open evenings only)
on the second floor of the Sunshine Sakae Building,
where they had delicious sushi delivered to them.
They drank (9) Opus One wine at that time.
There are many that say this wine comes from the greatest wine ridge in California.
This wine is a blend of California and Bordeaux wines
and is a difficult product to purchase.
Normally, the price starts at around 20,000 yen
to more than 150,000 yen for the expensive vintages.
"After he and the group of 20 persons, made up of staff,
enjoyed the meal of sushi, pasta, salad, kimchi and other dishes,
he and Lee Philip and Park Sung Woon enjoyed drinks in the VIP Room.
In addition to the wine,
there were also the Korean beers (10) OB Beer and (11) Hite Beer they drank.
The mineral water they were drinking at this time was (12) Evian."
(Sunshine Sakae, Promotions spokesman)
Then at the June 4 NHK press conference,
Yonsama drew attention for taking notes
while the reporters asked questions,
and the ball pen he used at that time
was the (13) Pilot Opt (carbon).
Though it looks costlier than 210 yen,
it wins raves for its writing ease.
According to Pilot Corporation's Operations and Planning Division,
"Customers visiting stationery stores are asking for and buying this ball pen.
Also, we are receiving numerous inquiries about this pen."
The pinky ring he wore on the hand holding the microphone
at the press conference was a (14) Chrome Hearts pinky ring.
It is not too rough or too simple in its design and is the latest 2008 design.
Before our June 5 interview,
he was seen eating the (15) 7-11 Gosireh Bento.
Also, during his entire Japan visit,
Yonsama carried around with him the American mineral water, (16) SEI.
This bottled water comes from a spring in the Catskills Mountains in New York.
The unique bottle is stylish and sensitive.
Unfortunately, the water is currently not available in Japan
and according to their U.S. office;
they plan to sell the water in Japan this year sometime after fall.
On June 7, he participated in the Nakata Hidetoshi soccer event
at the Yokohama Arena.
The (17) sunglasses he wore were different Chrome Hearts sunglasses
from those he arrived in at Osaka.
On June 8, after the Megane Ichiba CM filming ended at 11:30 p.m.,
Yonsama and the staff totaling 28 people visited the tonkotsu ramen restaurant,
Men no Bou Toride (Shibuya-ku Shinsen)
and reserved the pl*ace for two hours.
President Nakatsubo Masakatsu said this,
"YJ-san sat at the table's farthest left seat
so he could not be seen from the outside."
He ordered the "seaweed and half-boiled egg ramen" (850 yen),
"Toride gyoza" (500 yen 10 pieces), bottle of beer (500 yen Asahi Super Dry)
and then added the rice balls (cod roe 200 yen).
At the end, YJ-san put his hand to his chest
and took up that deeply moving pose.
Through the interpreter he said,
"Thank you very much. It was very delicious"
and he sought my hand to shake.
I had expected his hand to be soft since he is a kind person
but his hand was really large, rough and masculine.
The impression is that his hand has been built up through physical training."
On June 12, his fashion when he departed Japan was casual.
(18) The cross links bracelet was also Chrome Hearts.
Also, the black big bag was a gift from his acquaintance (19)
and is a KENJI IKEDA.
He is an upcoming Japanese designer
and this is a superb fashion bag priced at more than 100,000 yen.
KENJI IKEDA, after working at Balenciaga leather,
set up his own company
and his impressive work marking his debut in Paris is new and fresh.
Then his shoes (20) are white Converse All Star.
These are also unavailable in Japan.
Yonsama's fashion style was mainly sophisticated casual and conservative
during his 14-day stay.
During his rest in the U.S.,
it seems that he will polish his fashion sense even more!
Thursday, July 17, 2008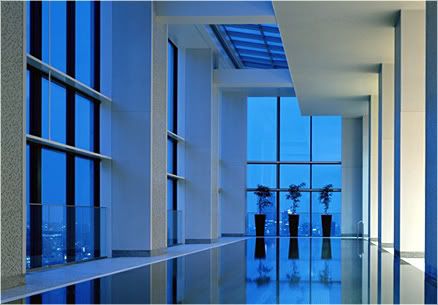 http://conradhotels1.hilton.com/en/ch/hotels/index.do?ctyhocn=TYOCICI
source: byjfan by Free / Conrad Official Website
source: BYJ Gallery~ by style
[Vod]배용준의 빌립(viliv) 새로운 버전
source - www.myviliv.com
http://222.233.53.50/daumblog/1001/5/10876205.flv