Saturday, June 07, 2008
14:10今スタジアムに来てます。ヨンジュンさん2階バルコニーから観戦してます。
YJ come to the stadium now at 14:10. He watch a game from the second floor balcony.
フィリップさんも一緒にいますよ。
Phillip Lee is together with him too.
15:30に試合が終わるそうです。その後セレモニー30分、関係者の記者会見1時間くらいあるそうで。
The match seems to be overred at 15:30. 30 mins after the ceremony, there seems to be press conference for one hour for the person concerned.
放送はタイムリーではなく遅れて放送されてるようですね。
It seems the broadcast is not on time, it was late.
入る時は窓開けなかったそうです。
When he entered, he didn't seem to open the window.
15:50 ヨンジュンさんの車来ました。これから乗り込むようですよ。
At 15:30 YJ's car came, he then enter the car.
Friday, June 06, 2008
배용준 10시간 인터뷰 끝 日 공식일정 마무리‥내주 귀국

From cafe.daum.net/byjgallery by 샤방미소용준님
배용준 10시간 인터뷰 끝 日 공식일정 마무리‥내주 귀국


Korean to Chinese: Wenny (byjfamily.net)
裴勇俊10個小時的訪談結束,日本正式行程結束,下週回國

[News] BYJ 10 hours interview completed, end of Japan Trip, returning to Korea next week.
Translated by Joanne on Quilt.

====================================

Anya!! posted this on the Daum.net's byjintorontoCafe.

BYJ, shot fashion pictorials for Japanese editions of GQ and Vogue
[Star News]6/6/08 14:33

Actor BYJ shot fashion pictorial for Japanese editions of world renowned fashion magazines, GQ and Vogue.
BYJ shot fashion pictorial in 2 years since a domestic men's magazine in 2006.
BYJ, showing costumes and hair style that we could not see often all the while, got words of praises from staff at the location.

His agency, BOF, explained that people working in it, having watched the shooting, revealed sense of satisfactionn, shouting 'wonderful' repeatedly, and BYJ showed sense of satisfaction by the work, as he was taking commorative shots with staff after all the shooting and interview have finished.

BYJ, officially visiting Japan with Director Kim JOnghak, Moon Sori, E Ji Ah at present, to commemorate airing of the drama 'TWSSG' (which is being aired in Japan) in Japan, proceeded relay interviews with Japanese influential medias, Nikan Sports, San Kei, Yomiuri, AERA, Weekly Women, Women Themselves, for 10 hours in a special class hotel in downtown Tokyo.

The explanation was that interviews in this time had hight degree of interest locally to the extent that editors of each medium would did them personally. At the time of interview, to a question "I heard that (you) created character of Damdeok with director. Please explained detalied example, BYJ told, When I received script where youth Damdeok would appear for the first time, I felt that (youth Damdeok) was not particularly different from boy Damdeok (Yoo Seungho).

Saying that "When boy Damdeok (Yoo Seungho), who always lived in imprisonment in palace, and who had been controlled from his father, grew up into Youth Damdeok, because boy Damdeok's browing period was dark, (if it were me) he would be jollier to cast it off,", he explained that "Because I thought that he might put effort to show his own appearance with change, like being free and playful, (I) changed (gradually) the chracter through conversation with the director."."

BYJ finished official schedule for visiting Japan with the individual interviews on 5 as the last one, and plans to return home after finishing personal schedule.

The drama 'TWSSG' is aired at 11PM on every Saturday in ground wave station at NHK, Japan.

Reported by Kim Soojin,skyaromy@mtstarnews.com
Copyright ⓒ Money Today Star News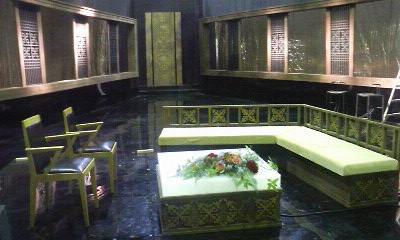 NHK에서 토크쇼 녹화한 스튜디오를 태왕사신기풍으로 꾸몄다고 하더니
바로 이 곳이라네~! 우와
정말 태사기 느낌이 가득하다 ㅠㅠ
역시 일본 방송 무대는 멋지구랴
출처-DC 배용준 갤러리- 러브러브byj님
source: byjgallery by miemi
[영상] 6월4일 태왕사신기 NHK 기자회견 일부 (NHK홈피 ver)
source: byjgallery by zeze

http://211.39.150.182/daumblog/1001/47/10089547.flv
http://www.nhk.or.jp/pr-movie/


[VOD]배용준-2008.06.06Sukkiri!-나고야 관람차 영상^^
source: byjgallery by makishi
http://121.156.53.5/daumblog/1001/77/10093477.flv
source: byjgallery by piko / kippo
Translated by suehan on Quilt

[Let's go to see BYJ -- NHK in Japan stopped their work.]
2008-06-05 13:52

On June 4, 2008, Hallyu star, Bae Yong Joon (36) recorded a special program for NHK while he visit Japan to celebrate the local broadcasting of the historical drama, "TWSSG". He appeared on the program with Moon Sori, Lee Jiah, and the producer Kim Jonghak. The appearance occurred right after he finished the press conference which NHK organized.

NHK showed their sincerity by constructing a Kokuryo style studio for this program in a format identical to the set for "TWSSG".

It will be broadcasted at 5 pm, the prime time of Saturday, on June 21 in Japan. The local official said, "It's very unusual to broadcast the foreign star's special program on prime time."

On the other hand, even the employees of company stopped their work to see Bae Yong Joon's press conference and special program. It was a rare scene.

The 'TWSSG' has been broadcasted at 11 pm on Saturdays on NHK since April 5th and the 10th episode will be broadcasted on the June 7th.

Reporter Kim Yongho yhkim@newsis.com